Inspired Grafix started as a business along the beautiful
beaches of the Gulf of Mexico in Treasure Island, Florida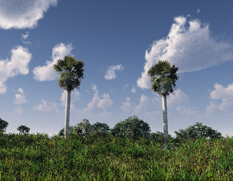 back in 1994. At first we were designing T-shirts and doing marketing kits for businesses (brochures, business cards,
and logo design, etc.). Over the years, we have evolved into 3D computer graphics and modeling, animation and visual fx. Today, we are a two-man team, father and son. We enjoy creating models and images that reflect the beautiful area in which we live, natural images including fish and wildlife, boating, etc., as well as cool stuff that we like, such as hot rods, and historical and nostalgic images.